Mall Redesign
Brand & User Research
Our client wanted to improve on site usability for local, national, and international visitors. The focus of this project was to make the site more accessible via mobile to improve everyones shopping experience.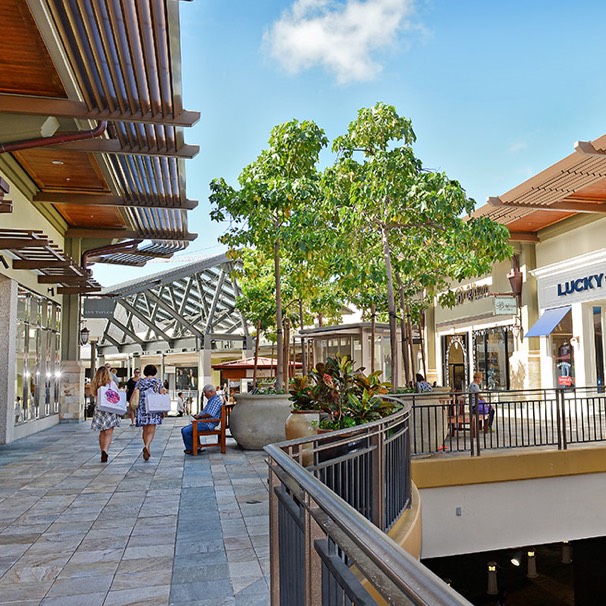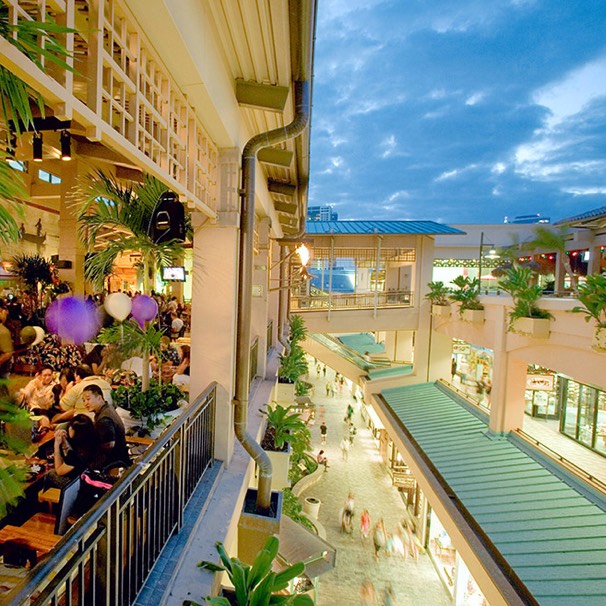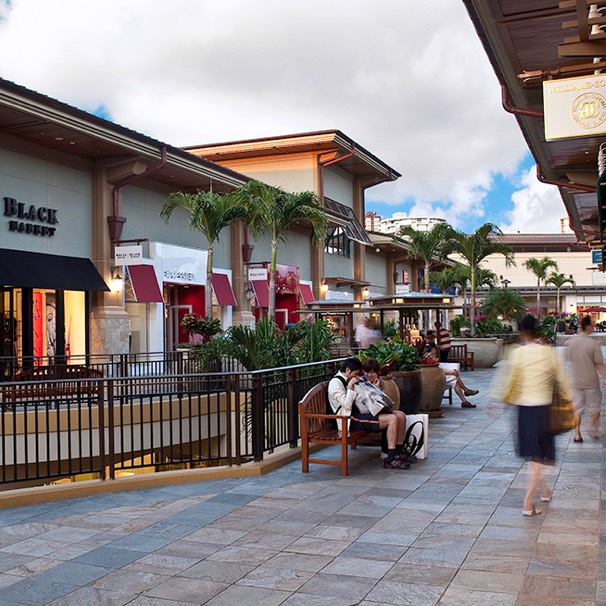 This is the world's largest outdoor shopping center and Hawaii's premier shopping, entertainment, and dining destination with 290 stores, including nearly 70 dining options.
Brand Research
Vision, Values, Touchpoints
We started the project by researching the company, brand values and vision, and gathering any type of data the client had from previous surveys. Below are a few highlights we discovered about our client:
Experience Visitors get to shop at the worlds largest outdoor mall in the nation, which takes advantage of Oahu's beautiful weather.
Social Media Audiences will most likely get information through social media first because it is updated frequently and is the easiest to update.
Going Mobile 82% (2012 survey) of visitors to the mall do general shopping and browsing without a specific store in mind. By building a mobile-friendly website, we can assist a shopper's on-site discovery of different merchants and vendors or suggest mall specials they may have not previously known about.
Reviews Since a vast majority of shoppers (~83% - 2012 survey) have an overall "good" or "excellent" shopping or dining experience, they are likely to write a positive review of the mall on Trip Advisor, Yelp, or other large websites.
After understanding more about their business, we did a heuristic review of their current website and a competitive analysis with other local and national brands.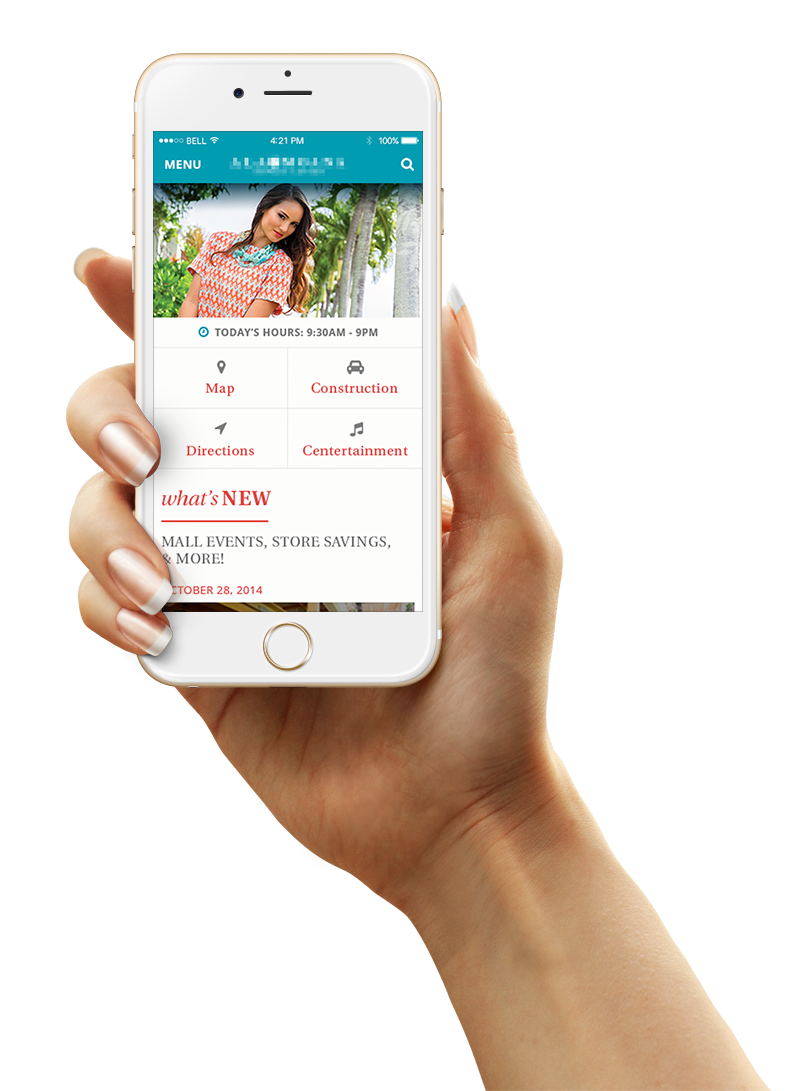 Heuristic Review
Current Site
The website caters to a large audience, which include local, national, and international visitors. They offer a variety of promotions and events which are either store or mall specific. Below are some points we touched upon when comparing their web presence with other competitors:
Pros
The brand is represented well in the design with floral patterns, attractive photography, and use of curves.
Each page has a different color scheme, which keeps the site lively and interesting.
Cons
Home page slideshow images transition automatically with no controls.
Mall hours are low on the page.
Side navigation is hidden and dominated by other sections.
Body content and headings have poor hierarchy. Headings, sub-headings, and body text can be treated differently so they don't blend in with each other.
Although active on social media, the site does not represent this.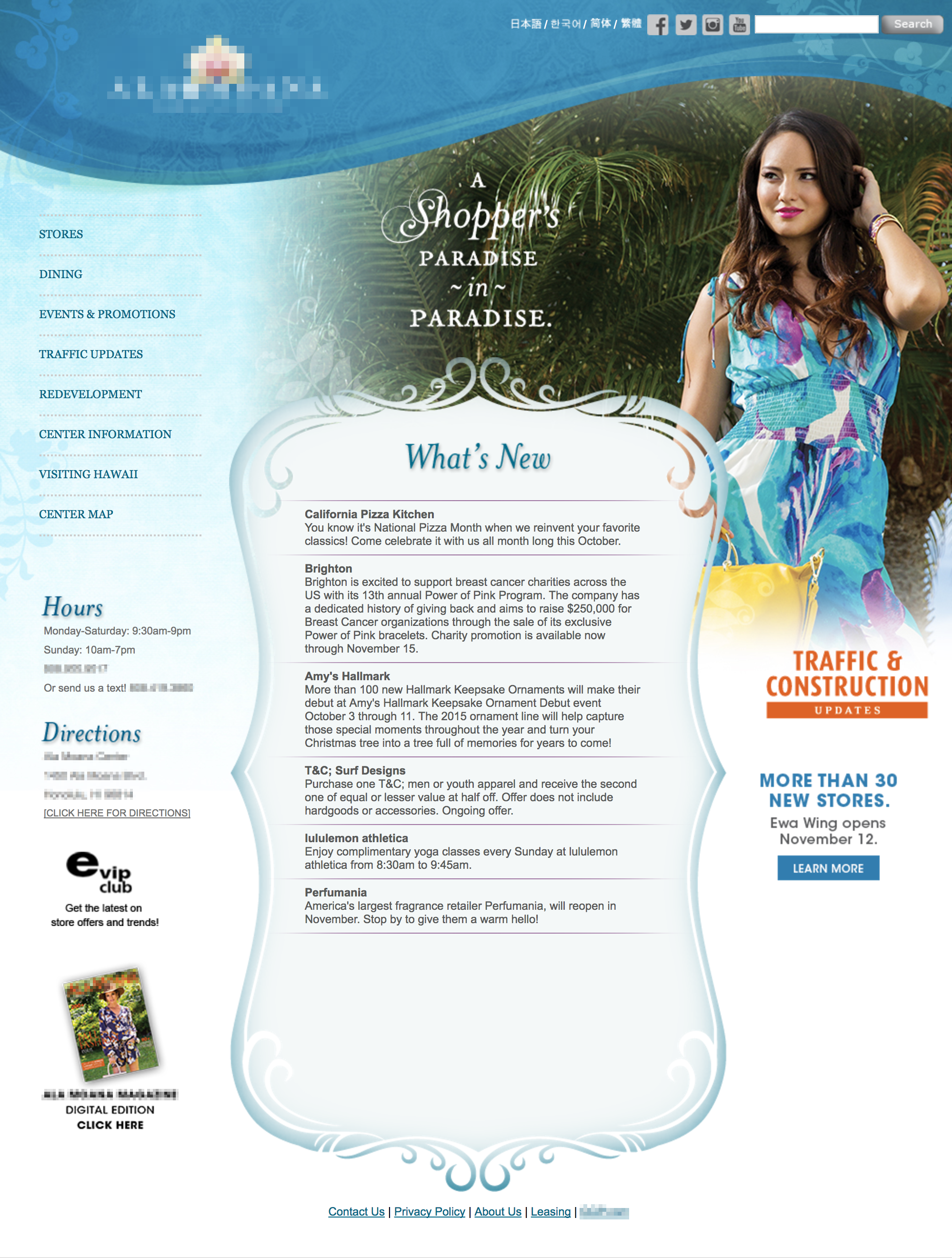 Proposed Redesign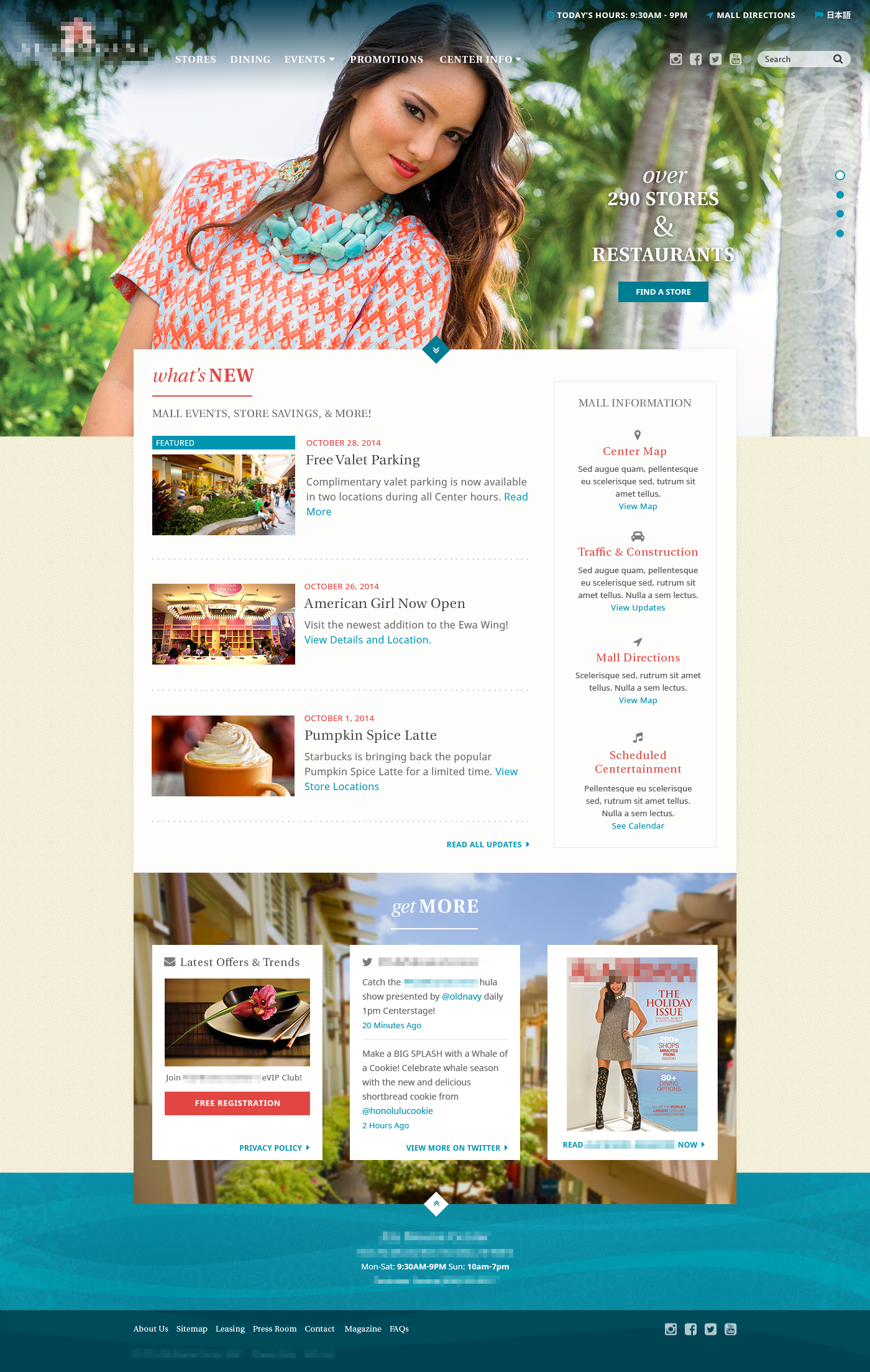 The proposed redesign was focused on (but not limited to) several things: Quick access to the directory map, mall hours, dynamic imagery, and easy to find updates.
Insights
Data from 800 shoppers were collected and we confirmed earlier assumptions about site visitors. Below are some highlights:
Unclear messaging 70% of users found the website content written in a clear and concise manner, but the other 30% answered that it wasn't. We needed to focus our efforts on content strategy to deliverer a clearer message to customers.
Web Savvy 59% of users accessed the website via desktop/laptop and 25% on a smart phone. This validated that we needed to focus on a responsive site for a seamless experience.
Social Media 69% people of surveyed were not aware of any social media presence by the mall and of those who knew, only 9% interacted on a social media network. We all discovered this to be a largely missed opportunity to interact with users and that more of an effort should be made in all of their channels.
Parking 71% of users felt parking was very important to an enjoyable shopping experience. This allowed us to focus on creating a map specifically for drivers marked with entrances, exits, parking areas, and valet parking options.
Quotes
A better map - it's so big I really need to know where I am going and where I should park (and how to get to that parking section !)
Provide links to actual store websites where available. Maintain updated parking map showing closed off areas and detours, Add retaurant [sic] menus.
Its [sic] hard to click on certain things because I use my phone. Somethings are better if you had a mouse.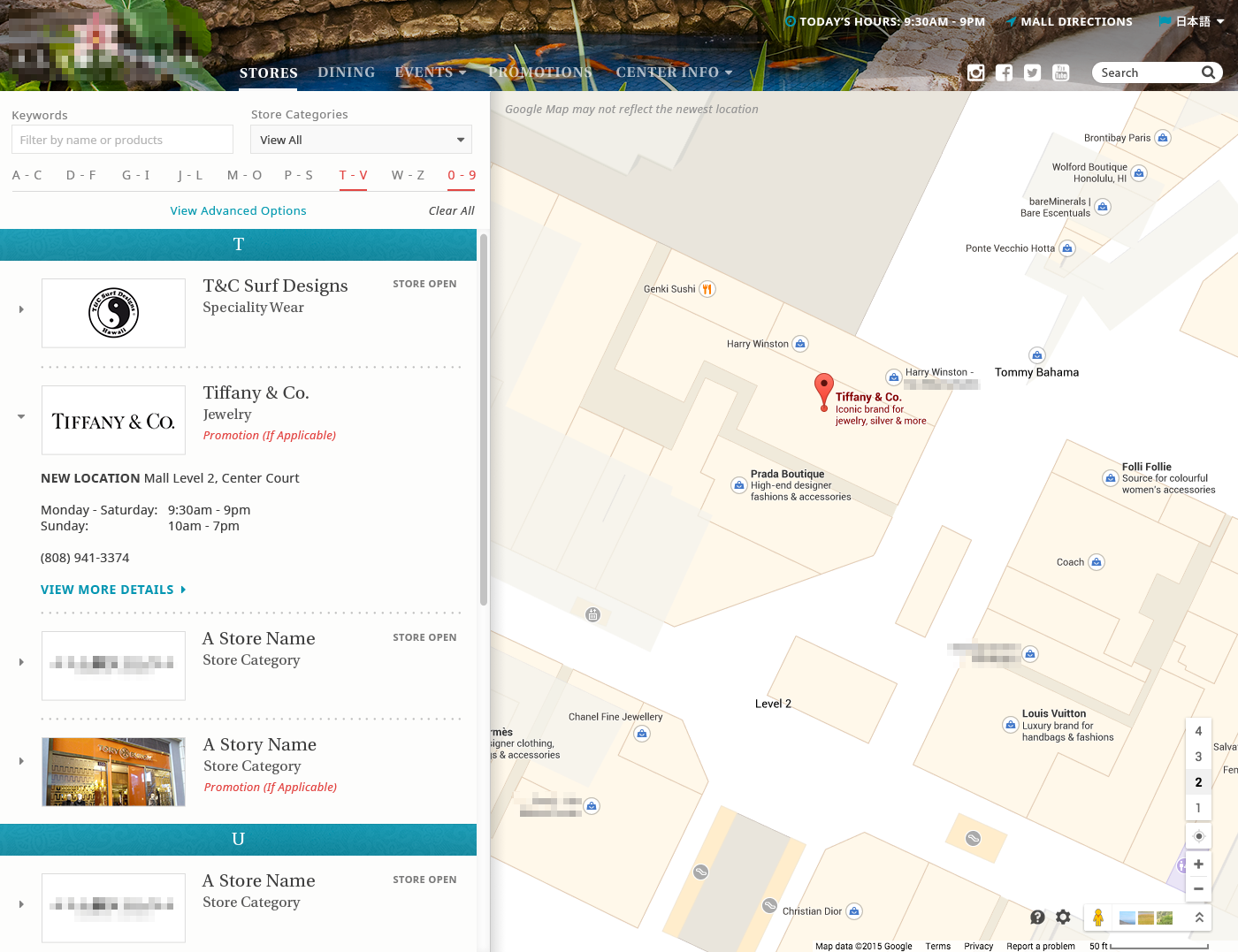 Our Approach
The website only offered a static map of shopping center. It was very tedious to update since there are multiple floors, hundreds of shops, and over a dozen restaurants. At the time, the mall was under construction and tenants were moving on a monthly basis which proved frustrating to visitors since maps weren't updated in a timely fashion.
We wanted to to integrate Google Maps for an interactive experience for any user using any type of device. Additionally, it would be easier for staff to update the map.
New and returning customers requested a detailed store page which highlights specials, specific store hours, amenities, featured brands, and other details. By providing more information, we all felt it would increase store traffic, especially if a store didn't have a personal website.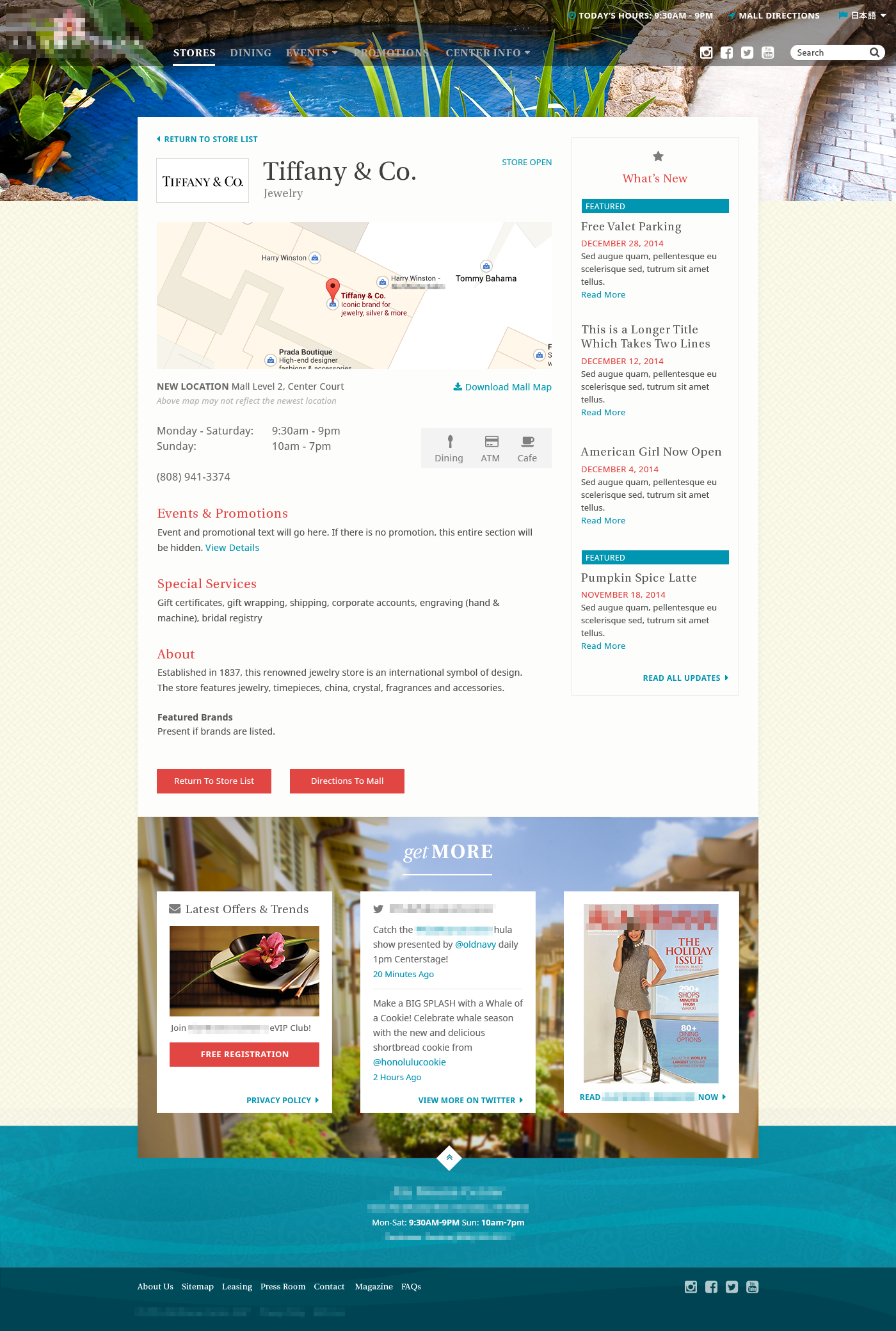 Experience and Motivations
The most common and agreed upon pain point would be how the maps for the mall are displayed and this is the first thing that should be improved upon when redoing the website.
Also, updates for the website go through a third party vendor, but they would like to change that work flow so they have control over editing in a timelier fashion.
Other concerns they addressed included:
Improve search functionality by adding product tags, brand name tags, autocorrect for misspellings, and include mall events.
Detailed event listings to engage customers.
Easier to update in-house.
Store owners can update their information without contacting marketing staff.
Consistent content and layout for all languages.
Our Approach
We all felt that WordPress would be the best solution to maintain store data, allow the marketing team to easily update information and post events, and easy management of localization. As designs were being updated and approved, we began to develop the site to ensure all these asks could be met.
Quotes
It's a matter of how we describe where things are located in text and also visually if that's even possible. Access to the property, that's a big challenge. We've got like what, eighteen entrances to the property around you know? How do you tell people to come in?
If I was a traveler, I would want to know where all the locals shop. Where all the deals are.
Conclusion
Working very closely with the client during every step of the process helped them learn the proper steps it takes to build a large-scale site out properly. The client was happy with our process, survey findings, designs, and our ability to suggest solutions to their problems. Due to unforeseen circumstances which were out of everyone's hands, the project was canceled during the start of development and never launched.
Project Contribution
Agency

Ikayzo, Inc.

Engagement

July - November 2014

Design

Mockups

Discovery

Touchpoints, Audits, Interviews, Sitemap, Userflows, Personas, Wireframes

Implementation

Wordpress